Now is the perfect time to put your home on the market to take advantage of a surge in buyers browsing properties online during the Christmas holidays and into January.
According to figures released by Rightmove, traffic to the UK's largest property portal dips to the lowest point on Christmas Day, when people are naturally spending quality time with their families and loved ones, but then increases by around 230% by 2nd January. This trend in traffic is consistent with activity levels on the Premier Properties website. Last year, we experienced a massive spike in browsers the day after boxing day and this continued into January, with the busiest day of 2019 being the 4th January.
It is clear from these stats that buyers are using the Christmas holiday "downtime" to consider a possible home move and take steps to look at what's on the market. It's one of the few holidays where families are all together and most likely at home, so any discussions about a move in the New Year can be had.
Get ready for the January rush!
Last year, four of the top five busiest days on the Rightmove platform were in January:
13th January
21st January
27th January
2nd January
             18th February            
There can be a few reasons why this might be the case; typically some people do wait until a new calendar year before deciding if indeed they are going to buy or sell, make a move up or down the ladder or perhaps move to a different location altogether. Their research may begin early in the year and help them take the first steps in the process. This brings fresh properties and buyers into the market that weren't present in the previous year.
A new year can also see previously active buyers resume their search after putting plans on hold in the run up to the festive period. Holidays or budgeting for Christmas can prompt some to shift their focus temporarily so once Christmas and New Year are out of the way, it's on with the show and back onto the property portals again for them.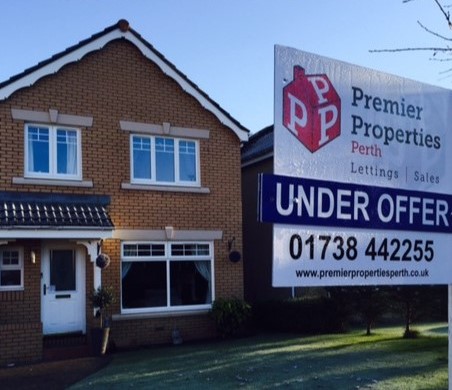 Taking a much closer look at the local market, there were 156 new properties hitting the market in Perthshire in January 2019 and a fairly impressive total of 129 sales were agreed in that month alone. We then start to see a gradual increase of activity and more new properties and sales being agreed. With new listings rising, it could create more choice for buyers and more competition for those selling, thus potentially shifting the balance of supply and demand in favour of the buyer.
Homeowners seem to be more and more aware of this bounce in activity early in the year and the positive results than can be achieved. We already have some properties scheduled in for photos early in January and even some clients that have their photos and particulars good to go already and only require the home report to get their property on the market.