2021 was a record-breaking year for Premier Properties Perth and our best year yet. We listed 304 properties and sold 308, totalling a whopping £75m. April was our busiest month; our team worked flat out to sell 48 properties, including our highest value property at £1.1 million. We listed and sold more than any other agent covering the Perthshire area, putting us firmly in pole position as Perthshire's market leading estate agent
We
won the prestigious Five Star Award for "Best Estate Agency Single Office – Scotland" in the UK Property Awards 2021-22
It's been a hectic year and a half for the property market since the end of the first lockdown.  The pandemic caused a huge rise in buyer demand as people assessed their living circumstances and searched for more space to work from home or to enjoy outdoor space, such as a garden or nearby countryside.  Restrictions on our ability to spend (including less socialising and holidays) allowed more people to save towards a house purchase and affordable mortgage products and the Land and Buildings Transaction Tax holiday contributed to people's sustained desire to move.  Strong buyer demand coupled with a historically low level of available properties coming to the market put significant upward pressure on prices, with the Scottish market experiencing significant annual property price increases and decreased selling times.
Indeed, Zoopla reported that one in 16 homes changed hands in 2021, the highest rate since 2007.  The latest House Price Index available from the Registers of Scotland (October 2021) shows that that the average property price in Perth and Kinross was £229,774, an increase of 14.4% in the year to October 2021.
The lettings market was also busy in 2021 with overall rental demand outstripping the supply of rental property.  We let 107 homes, more than any other agent covering the Perthshire area*.  As we've seen throughout the pandemic, the desire for a change of lifestyle and space generated more demand for houses/bungalows outside of Perth in more rural locations and there was strong demand for good quality houses in desirable areas.  In terms of flats, demand was highest for higher end/quality properties and modern homes.  The lack of supply in the sales market also affected the rental market as some buyers were forced into short-term lets until they found the right property. 
Throughout the year our lettings team have attended regular training events hosted by Landlord Accreditation Scotland to refresh and enhance their knowledge of the legislation, safety checks and legal documents relating to the private rented sector in Scotland.
We
won the British Property Award – Gold Winner – Letting Agent in Perth & Kinross 2021 – 2022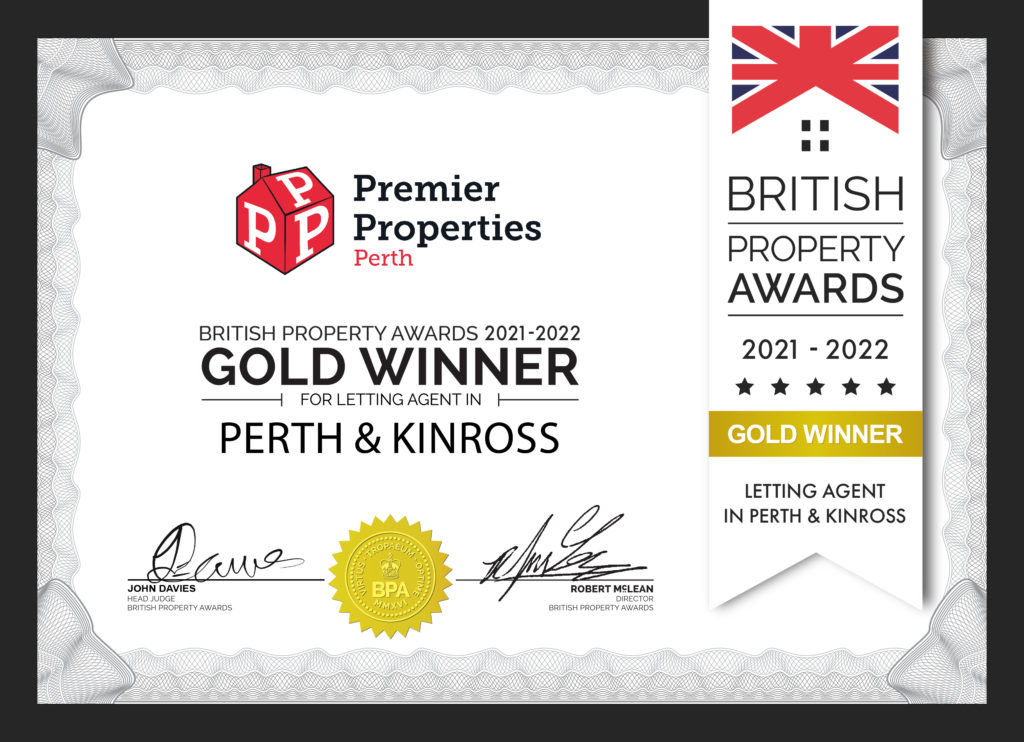 The fundamentals that have underpinned the property market in 2021 are unlikely to change dramatically: lack of supply, huge buyer demand, affordable mortgage products, reduced ability to spend money, an increase in working-from-home and the need for outside space.  Also, with house prices rising in 2020 and 2021, existing homeowners will have experienced increased equity in their homes, allowing them to jump up the ladder.  Zoopla recently predicted an overall increase of 2.5% in Scottish property prices in 2022. Rightmove forecast a UK-wide increase of 5% in selling prices.
The January market has started strong with sustained buyer and tenant demand and, with an uplift in valuation requests from sellers, we are seeing early signs of a better balanced market in 2022. 
Thinking about selling?
With demand so strong, there has never been a better time to get your own property on the market.  In this competitive market, it's important for sellers to put their own home on the market before looking for their next purchase, as this puts them in the best position when a property they like does come to market.  There's no need to wait until spring: demand is steady throughout the year and, with fewer homes to compete against, and more serious buyers during January and February, the rewards can be high both in terms of quicker sales and potentially higher sale prices. 
Landlords
Whether you are a buy-to-let investor or you have found yourself in a position where, for whatever reason, you need to rent out a home, it is crucial that you understand the market and your responsibilities as a landlord.  With over a decade of experience in the Perthshire lettings market, we can help with investment advice, marketing, pricing, legal obligations, documentation and much more.
Get in Touch
sales@premierpropertiesperth.co.uk
lettings@premierpropertiesperth.co.uk
01738 442255 
2021:
Premier Properties Perth - Market Leading Estate & Letting Agent in Perthshire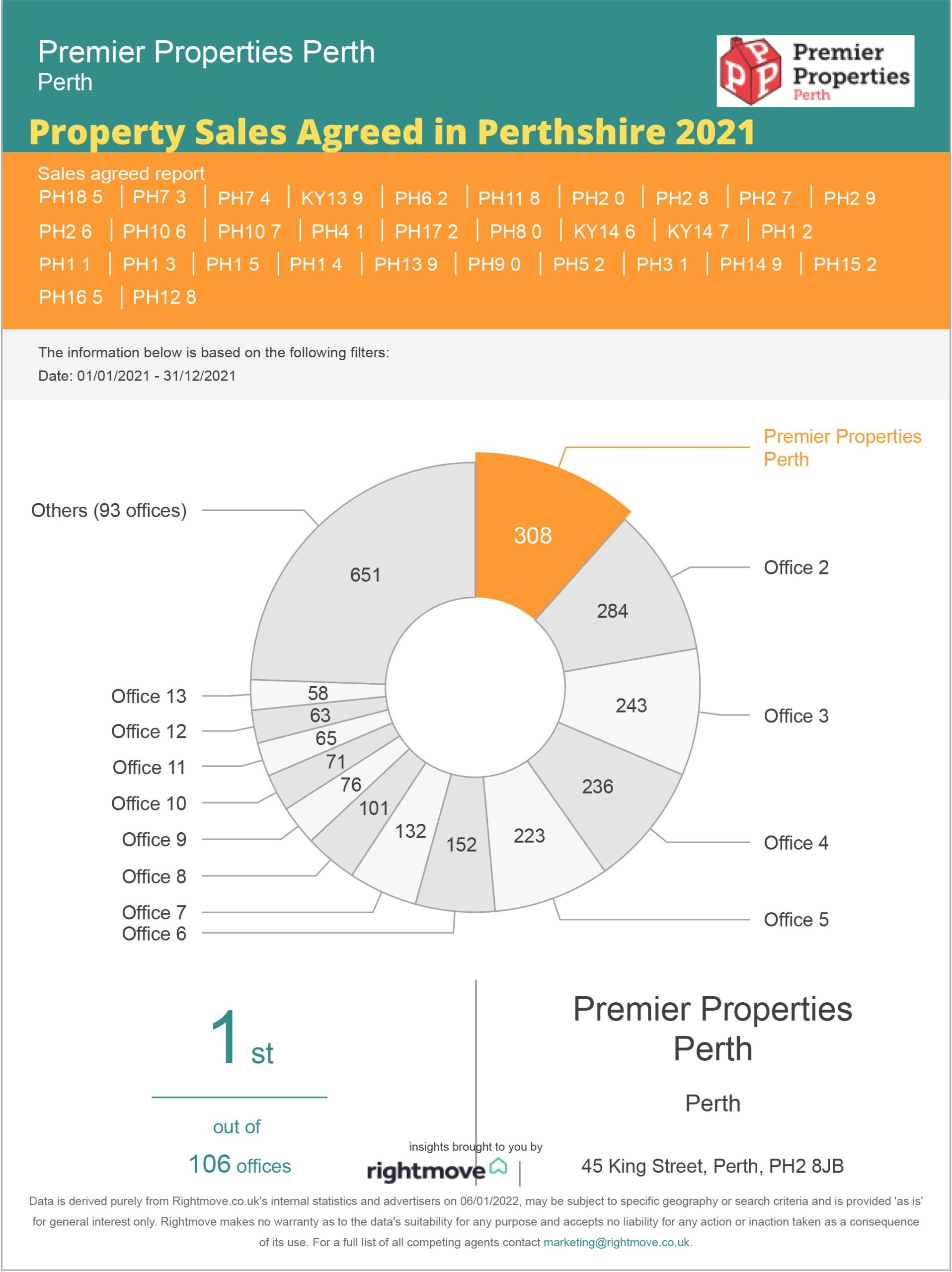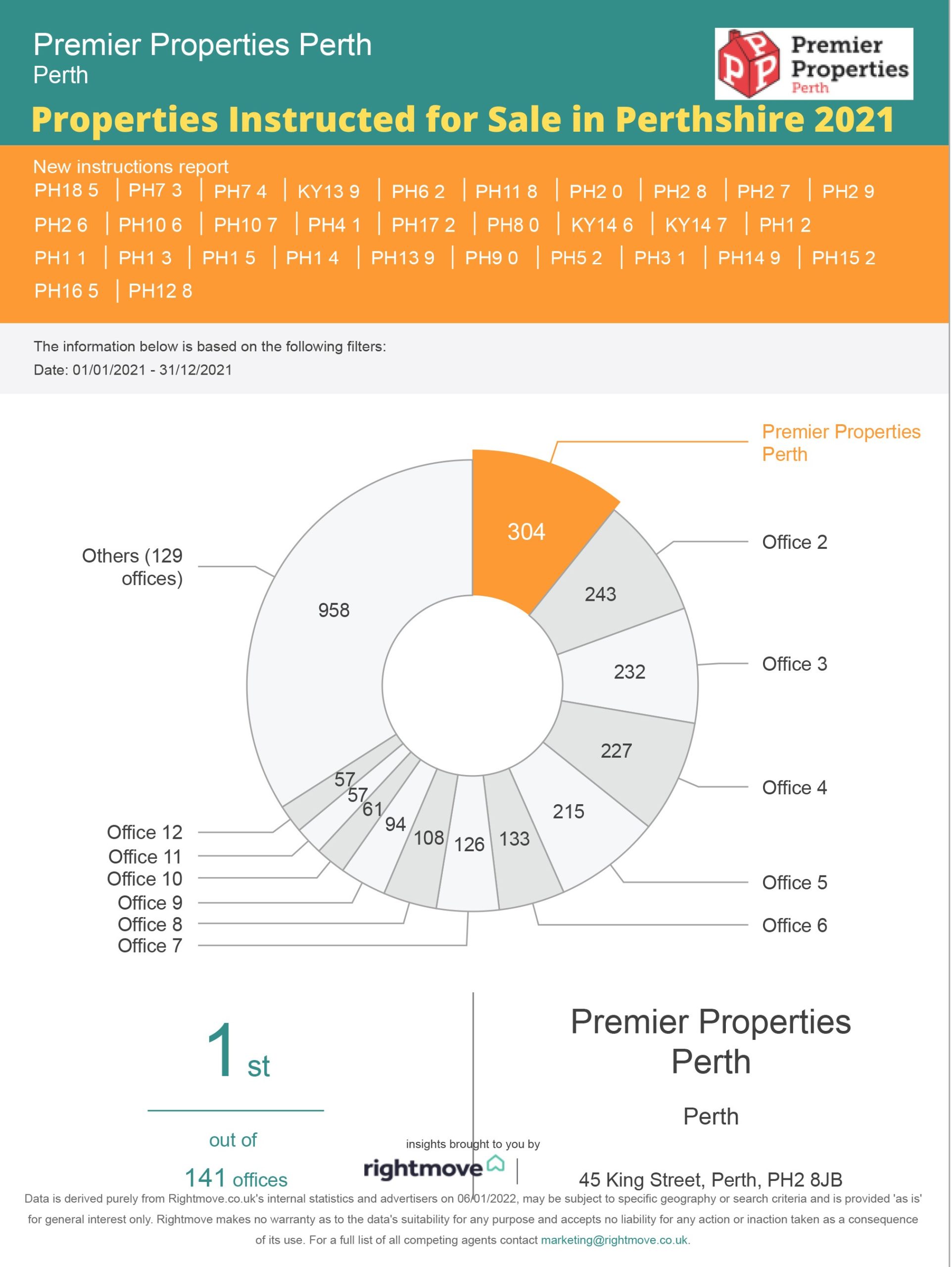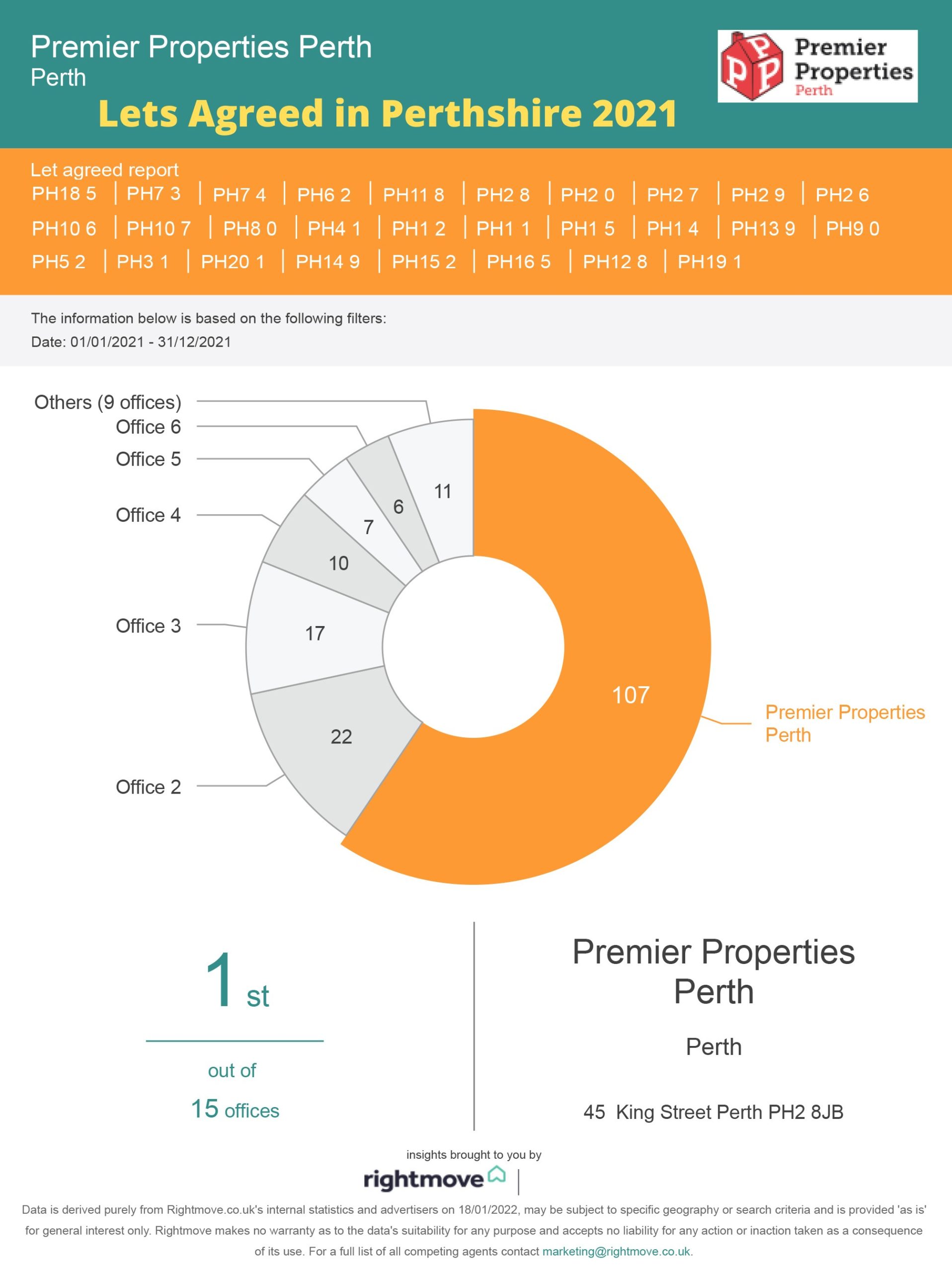 What our clients say about us